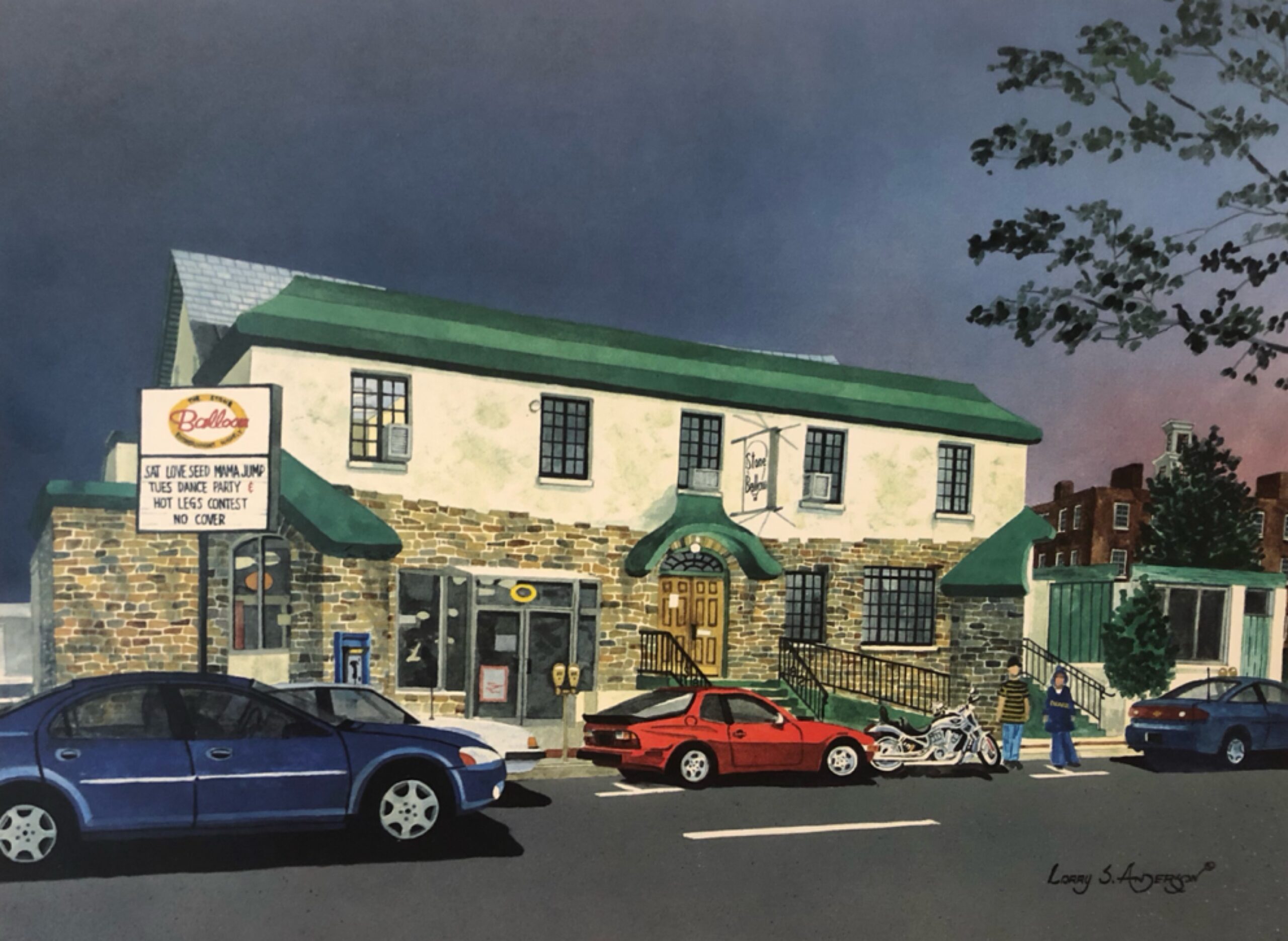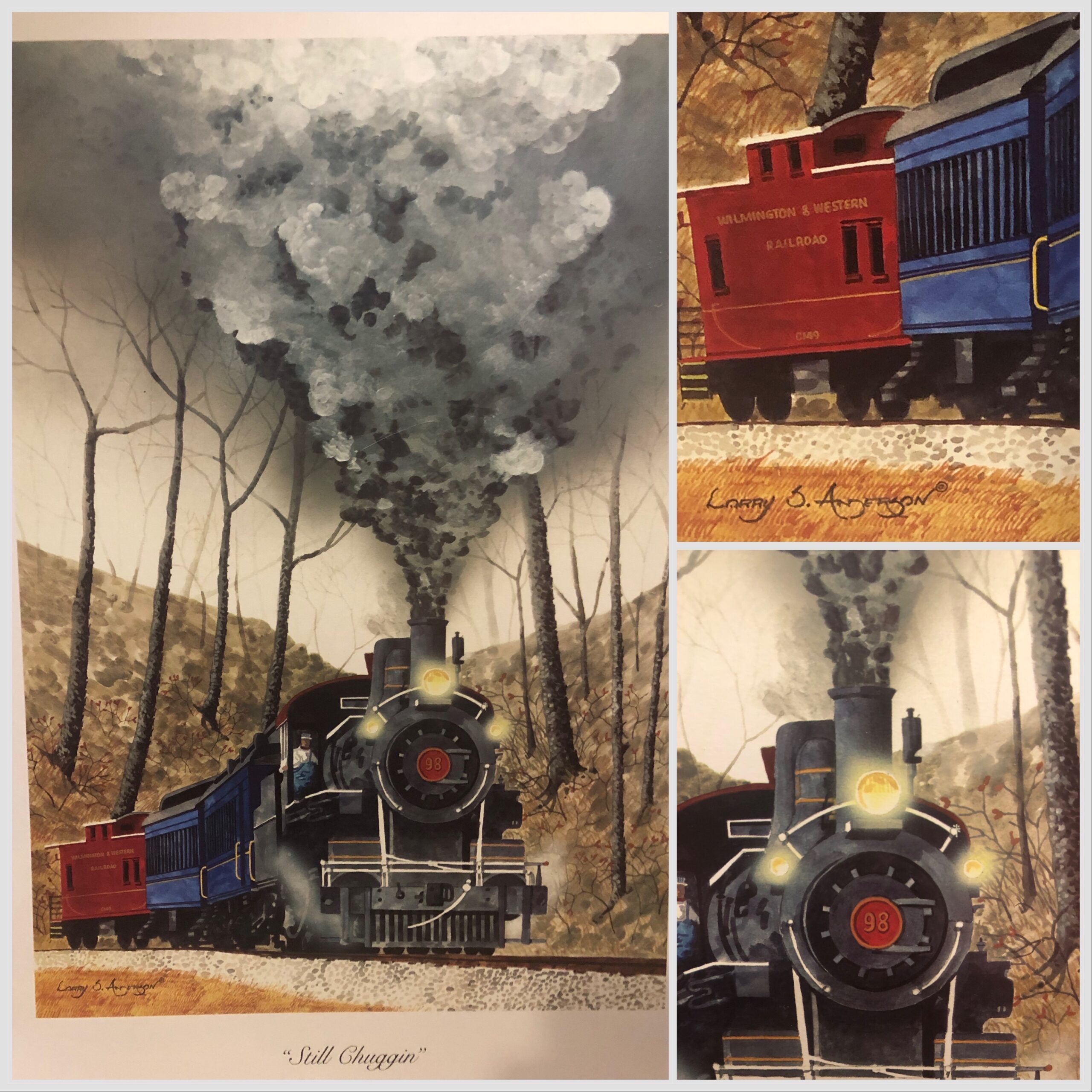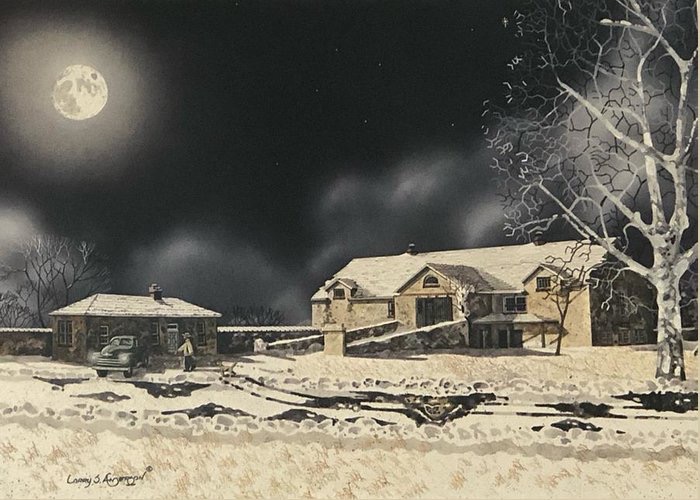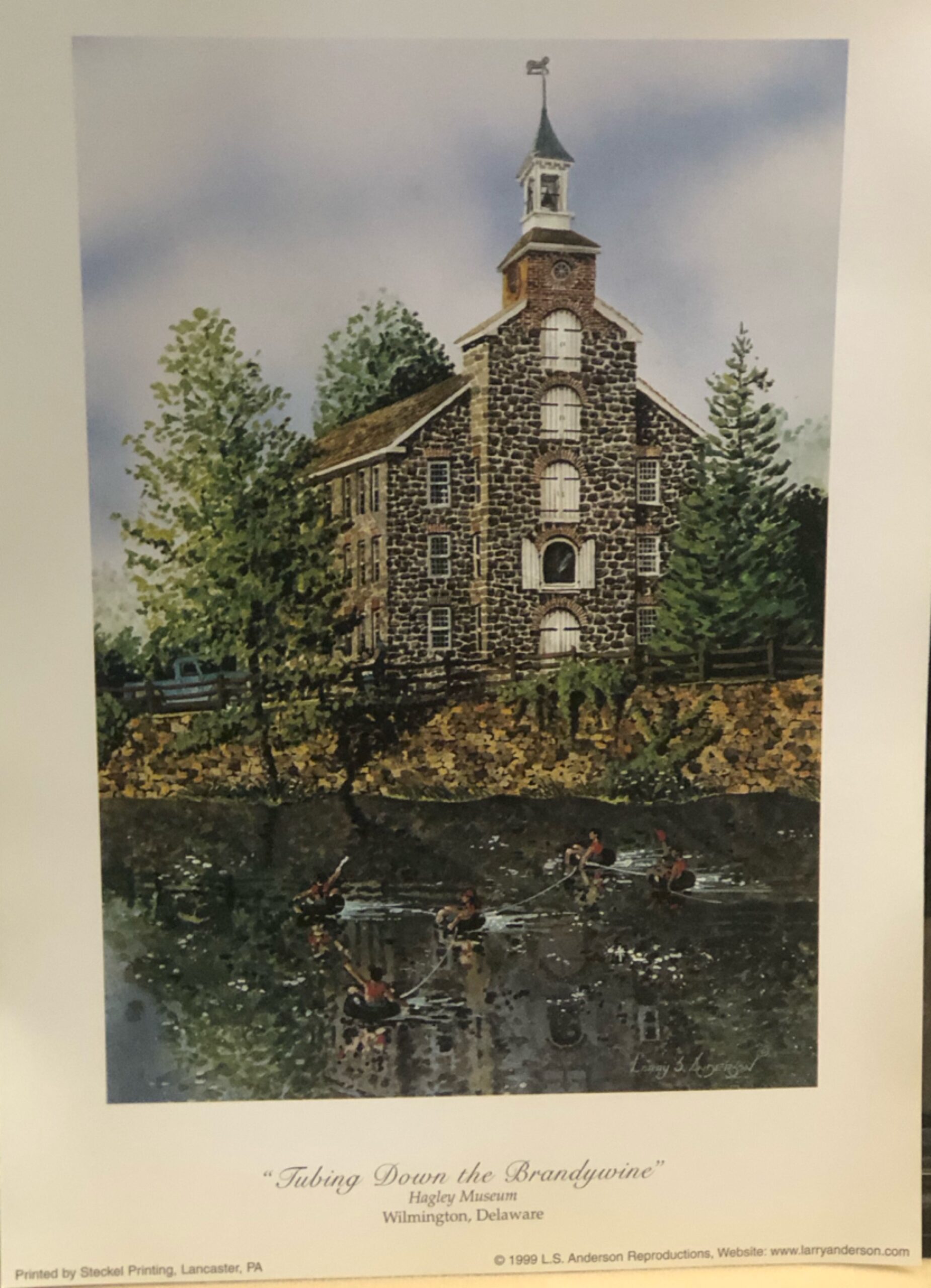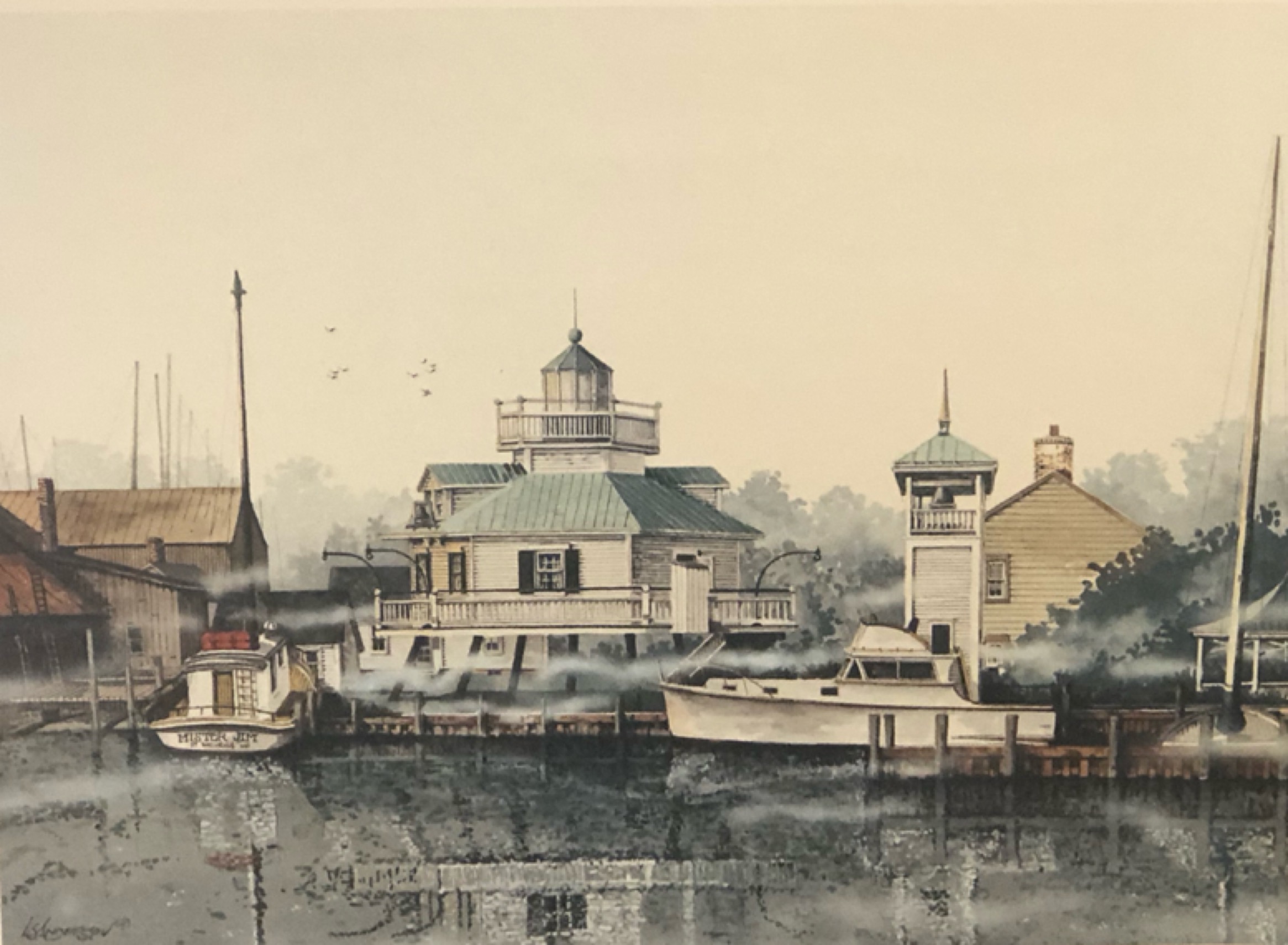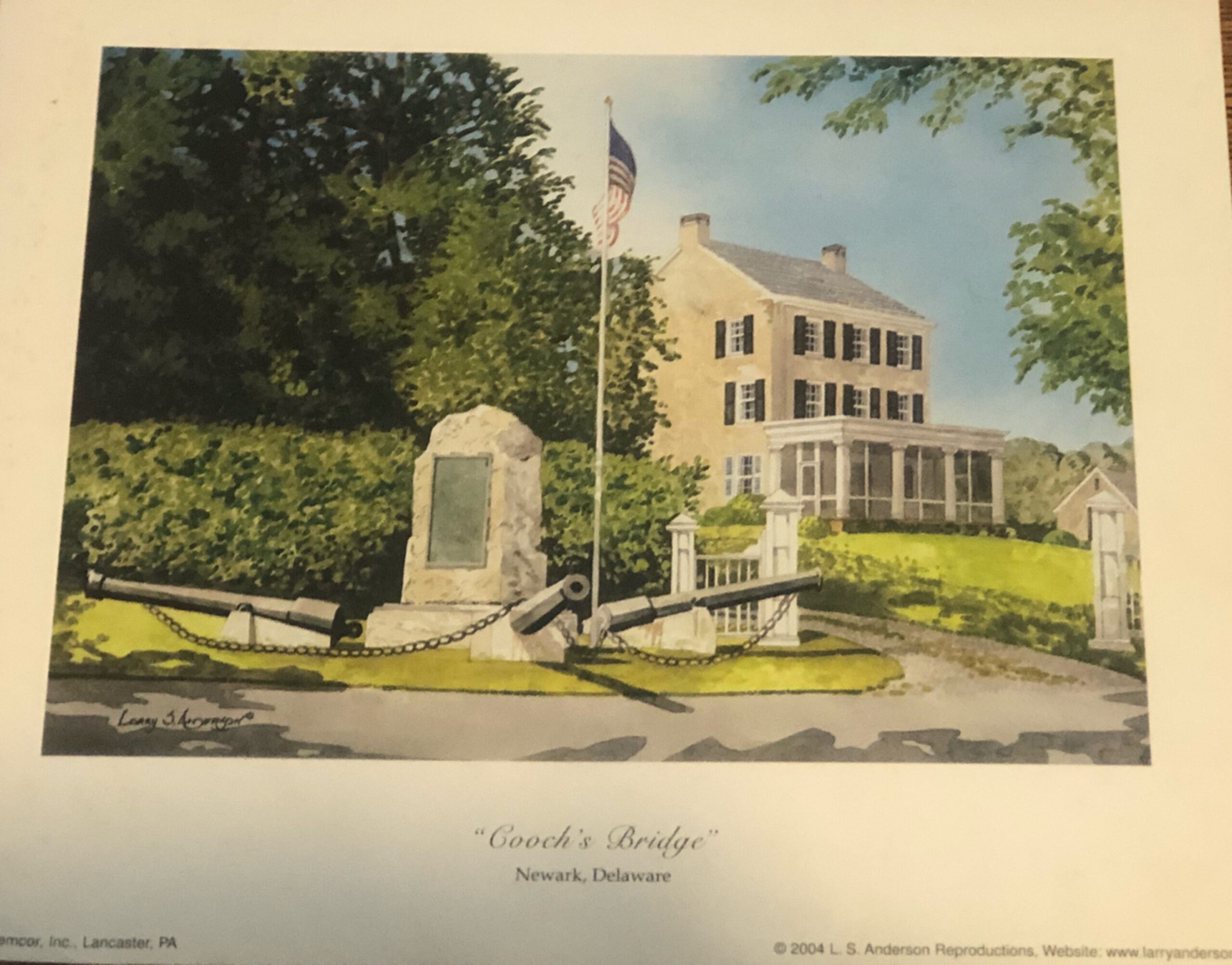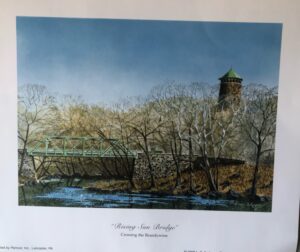 Prints of Rising Sun Bridge:Crossing the Brandywine is now available for purchase online.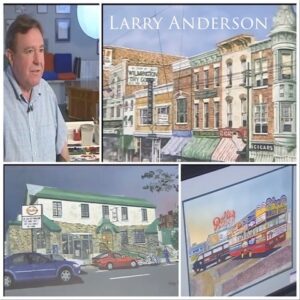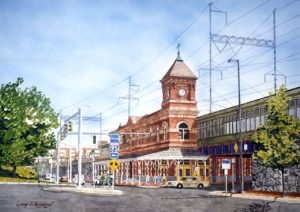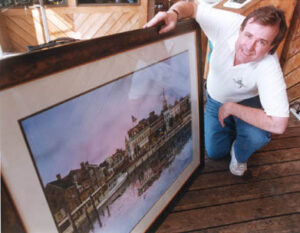 "A long term resident of Delaware, artist Larry Anderson enjoys focusing his attentions to the beauty of the Eastern Seaboard's sights and events.  Larry attempts to search out past and present nostalgia relating to "history in the making".  Larry likes to keep his art inviting and have the feeling of being able to "walk in and stay" in his works for a while, creating the art that reflects our lives and times.
While Larry enjoys capturing the local lore and events that are unique to this area, he also enjoys "participation painting" incorporating other people's ideas, memories and dreams into his art.  Larry is dedicated to preserving the history of the region, actively supporting causes and efforts by both participation and fundraising events.
Larry is from an artistic family.  His parents met in art school and his brother Jon is a professional artist as well.
Larry is a graduate of Fine Arts from the American Academy of Arts in Chicago, Illinois where he studied commercial illustration and watercolor. After being transferred to the Delaware Valley as an Electrical Engineer and Construction Manager in 1984 he began to realize his talents laid elsewhere and has spent the last 17 years of his life as a full time Artist and part time civic activist."
Quote from Larry Anderson's personal online Blog.
🕯️Obituary
Laurence Scott Anderson, Delaware's Painter of Memories passed away peacefully at home surrounded by love on November 21, 2021.
Originally from Illinois, Larry's career as an electrical engineer brought him to Delaware in 1984. He was a graduate of the American Academy of the Arts in Chicago where he studied commercial illustration and water color. Both his parents were artists as well as his brother, Jon. After settling in Delaware, he decided his talents lay elsewhere and spent the next 30 years as a full- time artist. Always a champion for charities, Larry served on the Board of Directors of Ronald McDonald House of Delaware, Wilmington and Western Railroad, United Cerebral Palsy and Delaware Foundation for the Visual Arts. He was the founder of Artfest at Ronald McDonald House and the Hockessin Art Show. He is well known for paintings of the Rockford Tower, the Wilmington skyline, Walkers Mill, the Deer Park Tavern, Longwood Gardens and Delaware beach bars such as the Rusty Rudder and the Starboard. Many local high schools and churches are memorialized in his paintings. He expanded his horizons beyond the Delaware Valley to paint the White House, the Lincoln Memorial, the Statue of Liberty, the 1964 World's Fair in New York and several scenes of Annapolis. Larry's paintings have touched the lives of many people. He was happiest when he knew one of his paintings was part of someone's memories, past or present. Larry had a loyal following and his originals and prints hang in many a home and office in the Delaware Valley and beyond. www.larryanderson.com is (was)!a pathway to all the art which brought joy to so many. Larry will be remembered as a kind and generous soul who gave so much of himself to the world around him.  He was predeceased by his parents, Bette and William Anderson of Illinois and his sister-in-law, Sandra Jean Cooper. He is survived by his husband, David Cooper, of Wilmington, his brother, Jon Anderson who resides in Bali, his brother-in-law, Phillip Cooper, his nieces Lori Cooper and Leslie Cooper, his grandniece, Grace Chariya, grandnephew, Cooper Acton, all of Central Illinois as well as numerous friends he made along the way.
A special thanks to Delaware Hospice, friends Mary High and John Fenice of Heritage Medical Associates and Marilyn Reed and Frank Vito for all the support during Larry's illness. To honor his memory please consider a donation to your favorite charity.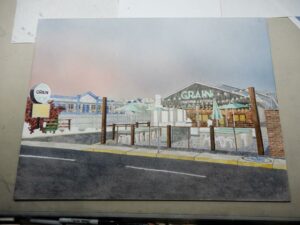 Learn about the history of this Larry Anderson painting in the article about it by clicking on the image above.